OCASI's Initiative to End Gender-Based Violence in Immigrant and Refugee Communities provides resources, education and leadership to the settlement sector and the broader community on gender-based violence prevention and survivor support.
We facilitate resource development, public education campaigns, professional development and training, online courses, community-building, knowledge-sharing, advocacy, and use of the arts in order to prevent and respond to gender-based violence in immigrant and refugee communities.
Our work builds on decades of expertise, as OCASI has been engaged in gender-based violence prevention work since 2002. All of our work is grounded in an anti-oppressive, anti-racist and intersectional feminist framework.
Key Concepts:
Gender-based violence happens in all communities, but it impacts immigrant and refugee communities in distinct ways.
Women (including cis women and trans women) and non-binary immigrants and refugees face unique barriers to accessing support for violence or abuse.
Immigrant and refugee-serving organizations have an obligation and responsibility to be informed about gender-based violence issues, and to provide compassionate, trauma-informed, and appropriate services for immigrants and refugees who are survivors of violence.
The broader community must to build its capacity to prevent, recognize, and respond to gender-based violence within immigrant and refugee communities, and to support survivors.
Resources and Opportunities:
Building Leadership Capacity to Address Gender-Based Violence against Non-Status, Refugee and Immigrant Women across Canada
This national five-year (2019-2024) project is funded by the Federal Department of Women and Gender Equality. This project is led by OCASI in partnership with civil society organizations working across not-for-profit, education and grassroots community-based sectors. This project aims to build the leadership capacity of Non-Status, Refugee and Immigrant (NSRI) women to shape and inform policies and services addressing GBV by combining two promising practices developed by our project partners, the Peer Champions Program and Community Advocacy Network (CAN) strategy. The Peer-CAN model proposes a set of promising practices that support community-level capacity for enhancing the well-being of NSRI women and engaging them as leaders in eradicating GBV over the long term. We encourage the participation of NSRI survivors, service providers, and other civil society leaders to foster connections between NSRI women and participate in building community capacity for developing survivor-led, evidence-based solutions to GBV.
To learn more about this project and inquire about opportunities to participate and collaborate, please contact:
Margarita Pintin-Perez, Senior Coordinator
mpintinperez@ocasi.org
416-322-4950 ext. 285
Online Courses
Gender-based violence in immigrant and refugee communities is a complex and sensitive issue. OCASI's online courses are designed to empower you with the knowledge you need to effectively support survivors of gender-based violence in immigrant and refugee communities. The courses are free and are offered in both English and French.
See our current list of facilitated gender-based violence courses here.
See our current list of self-directed gender-based violence courses here.
Graphic Novel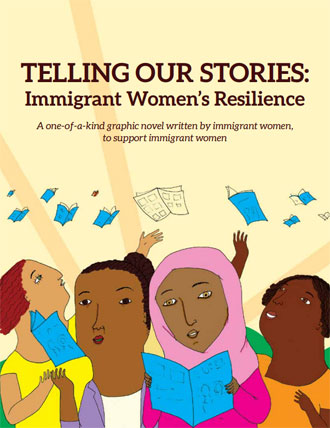 "Telling Our Stories: Immigrant Women's Resilience" is a graphic novel written by immigrant and refugee women, for immigrant and refugee women. The graphic novel deals with issues of sexual violence and violence against women. You can download it for free, and it comes with a list of discussion questions and a webinar on how to host a workshop in your community using the graphic novel. It is available in 10 languages.
Support Resource Booklet for Survivors of Sexual Violence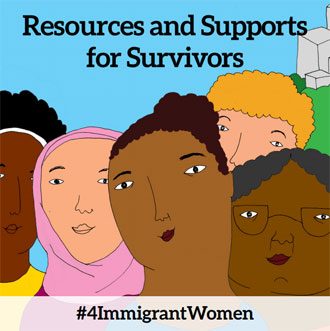 Survivors of sexual violence deserve access to support resources. This booklet was designed using imagery from the "Telling Our Stories" graphic novel described above. It contains a list of resources that immigrant women survivors of sexual violence may find useful.
"Which Would You Choose?" Resource Card Series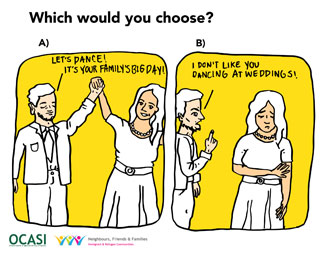 Domestic violence is not just about physical violence – it can involve financial abuse, emotional abuse, stalking, sexual abuse, or psychological abuse. The "Which Would You Choose?" card series features different scenarios to help you understand what the different forms of abuse can look like. The cards also contain a helpful questionnaire, tips on how to support someone who is living with abuse, and a list of Ontario-based resources. The cards are available in nine languages.
#SafeAndLovedAtHome Posters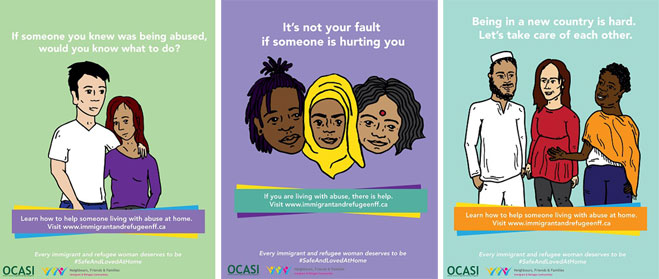 A poster is a powerful way to send a visual message of support to clients and community members who are survivors of violence.
Place an order for posters to be delivered to your agency by contacting us.
The #UsToo Working Paper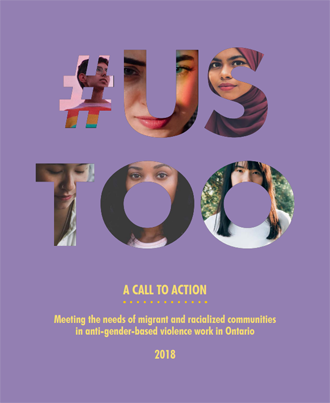 On March 2, 2018, OCASI and the Barbra Schlifer Clinic co-hosted a Roundtable on meeting the needs of racialized, immigrant, and refugee survivors of violence in Ontario. At this Roundtable, 30 leaders came together to share their expertise on policy-level change and educational interventions that are needed in order to bring about change. The results of this discussion are featured in the #UsToo Working Paper.
Download the working paper here.
The RAP Guide
Recognizing and Responding to Intimate Partner Violence Resource Guide for Refugee Resettlement Assistance Programs in Ontario, also known as the "RAP Guide", was a multi-agency collaborative effort. The RAP Guide was developed specifically for settlement workers in Refugee Assistance Programs in order to provide them information to understand the complex situations of government-assisted refugee women in Ontario when they experience intimate partner violence.
A Future without Gender-based Violence: Building Newcomers' Resilience through Community Education: A Toolkit for Service Providers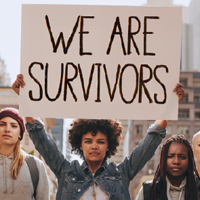 This toolkit is for staff at community organizations that serve immigrants, refugees, and people without status. It is available in English and French versions. We have developed it to support service providers in providing community-based education to newcomers about gender-based violence, and begin to equip them to address challenging situations. Although gender-based violence is present in nearly every society worldwide, it can affect newcomers in unique ways, and there are many factors that can make it difficult for members of immigrant and refugee communities who experience this kind of violence to get support.
 Download the Kit [English]  Download the Kit [Français]
Webinars
OCASI hosts webinars that dive into specific topics related to gender-based violence prevention and survivor support.
Access our webinar recordings here.
The Immigrant and Refugee Communities – Neighbours, Friends and Families (IRCNFF) Campaign Website
The IRCNFF Campaign is an Ontario-wide campaign to raise awareness about the signs of woman abuse in immigrant and refugee communities. OCASI has a lead role in coordinating the campaign and engaging the community directly through Peer Champion work and educational events. The IRCNFF Campaign website has a wealth of information about domestic violence, how to support someone who is living with abuse, and a list of support resources in Ontario.
Visit the IRCNFF Campaign website here.