OCASI's Initiative to End Gender-Based Violence in Immigrant and Refugee Communities provides resources, education and leadership to the settlement sector and the broader community on gender-based violence prevention and survivor support.
We facilitate resource development, public education campaigns, professional development and training, online courses, community-building, knowledge-sharing, advocacy, and use of the arts in order to prevent and respond to gender-based violence within and against immigrant and refugee communities.
Our work builds on decades of expertise, as OCASI has been engaged in gender-based violence prevention work since 2002. All of our work is grounded in an anti-oppressive, anti-racist and intersectional feminist framework.
Key Concepts:
Gender-based violence happens in all communities, but it impacts immigrant and refugee communities in distinct ways.
Women (including cis women and trans women) and non-binary immigrants and refugees face unique barriers to accessing support for violence or abuse.
Immigrant and refugee-serving organizations have an obligation and responsibility to be informed about gender-based violence issues, and to provide compassionate, trauma-informed, and appropriate services for immigrants and refugees who are survivors of violence.
The broader community must build its capacity to prevent, recognize, and respond to gender-based violence within immigrant and refugee communities, and to support survivors.
Initiatives:
Building Leadership Capacity to Address Gender-Based Violence against Non-Status, Refugee and Immigrant (NSRI) women across Canada
We are a growing network of service providers, organizational leaders, community advocates and academic researchers working together on a national five year project (2019-2024) focused on Building Leadership Capacity to address Gender-Based Violence against non-status, refugee and immigrant women across Canada. This project is led by OCASI in partnership with This project is funded by the Federal Department of Women and Gender Equality.
Roundtable Events: Intersectional impacts of COVID-19 on non-status, refugee and immigrant women.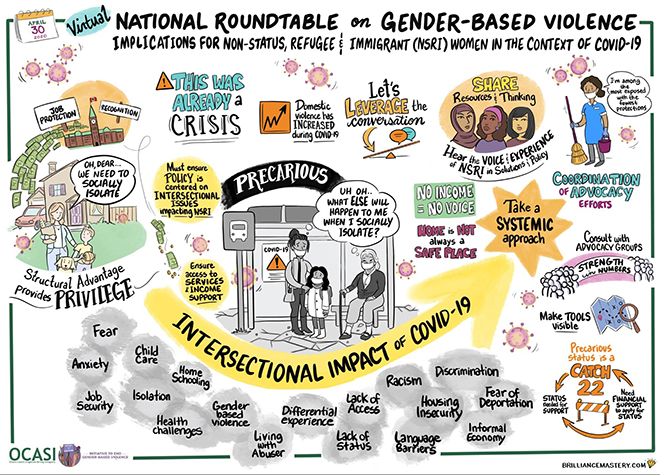 To learn more go to Building Leadership to Address
GBV against NSRI women in Canada
Immigrant and Refugee Communities - Neighbours, Friends and Families (IRCNFF)
The Immigrant and Refugee Communities Neighbourhood Friends and Family (IRCNFF) Peer Champions Campaign is an Ontario-wide initiative coordinated by the Ontario Council for Immigrant Serving Agencies (OCASI) to raise awareness about violence against women in immigrant and refugee communities. The goal of the IRCNFF Peer Champions Campaign is to educate communities across Ontario to recognize the signs and risks of violence against women and equip them with the necessary tools to support women experiencing domestic violence. Peer Champions act as ambassadors for the IRCNFF Campaign in their communities as well as liaisons between service providers, civic society leaders, and community members.
Coming Soon:
Click on the following link to watch the video recording of our last roundtable Gender-Based Violence and the spread of racism against non-status, refugee and immigrant women in the context of COVID-19 which took place on May 28, 2020. Summary coming soon!
How to stay connected to our efforts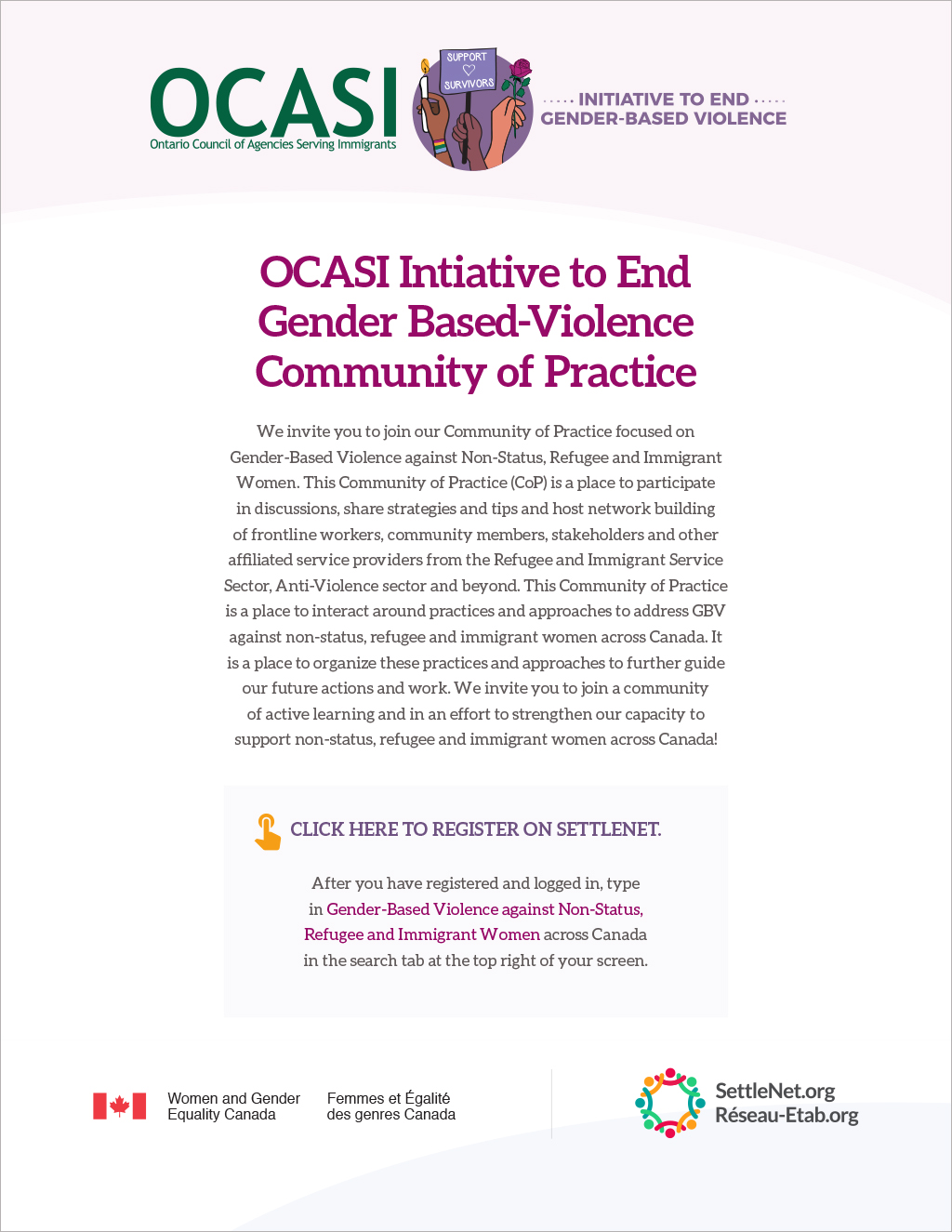 We encourage you to join our Community of Practice - GBV against non-status, refugee and immigrant women across Canada. To register, please follow this link.

Follow us on Twitter @OCASIGBV OCASI's to follow our project announcements, events and to share the work and efforts of our partners more broadly!