Community Ambassador
TNO-The Neighbourhood Organization
Toronto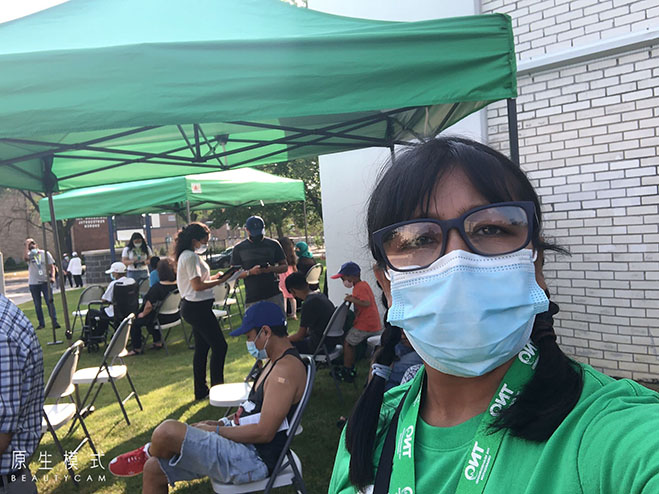 --
My name is Ishrat Jahan, I came to Canada from Bangladesh. I finished my Masters degree in Sociology from the University of Dhaka. I love to travel, play badminton, design fashionable dresses, perform in theatre, cook new dishes and make new friends.
--
Being a part of Toronto History
My name is Ishrat Jahan, I came to Canada from Bangladesh. I finished my Masters degree in Sociology from the University of Dhaka. I love to travel, play badminton, design fashionable dresses, perform in theatre, cook new dishes and make new friends.
I registered as a volunteer with TNO-The Neighbourhood Organization about a year after I arrived in Canada 5 years ago. In early 2020 when Covid Pandemic was declared I heard of the organization's need for community ambassadors and I signed up to be one. It was my turn to give back to the community that had become my new home. As a new comer I had been able to receive support with my immigration process, settlement and gain Canadian experience through TNO.
It was a scary time, everyone was afraid to venture out of their homes and were staying home and staying safe. I wanted to do my part in supporting the community, there were a lot of us, we were each responsible to share Pubic health information with residents of Flemingdon Park and Thorncliffe Park, I was responsible for my building and the several townhouses around the buildings, I would say roughly about 1000 units. Every week we would share flyers door to door in these units- share information on how to wash hands, how to mask, how to maintain social distance, where to go for a Covid Test if someone had symptoms, and more importantly how to seek help from TNO's covid isolation support so they could isolate safely.
It was a lot of physically demanding work but I enjoyed myself. I also knocked door to door for online vaccine registration. As a new immigrant and a volunteer of an organization that provides services to newcomers and refugees, I was happy to do it. I also knew that my work as a community ambassador was serving so many refugee claimants, refugees and newcomers who live in Flemingdon Park and Thorncliffe Park. Some of them in the early days were so scared but did not have enough information and we were there to share this information.
My fellow TNO Community Ambassadors and our managers would have regular trainings and meetings and this also kept us engaged and in touch with everyone else, we would often have to meet people, talk to them and share information which I think also helped our mental health. When I walk in the neighbourhood I meet the community members who appreciate me for my outstanding work. Now-a-days they call me "Vaccine Girl".
When the Covid Vaccines became available in Canada, it was an exciting moment for all of us who had been working so hard at keeping our communities safe. I worked at each and every pop up clinic that we had in our community- every day we came across refugees, newcomers, Canadian Citizens and also undocumented individuals who needed to get their vaccination. As a Community Ambassador I was a part of the 10,000 vaccine day with Michael Garron Hospital and also at the Toronto Vaccine day on June 27th at the Scotia Bank Arena.
I had never been to that part of downtown Toronto, we got there early at 6:30 am as we had planned. It was huge, I had never seen the inside of the Scotia Bank Arena, I had never seen the Maple Leafs Square or the Jurassic Park in person. I had never watched a Raptors game or a Leafs game and I do not know if I ever will get the opportunity but that day I was inside the stadium. The day was like a 'dream'. The stands had been turned into vaccine observation seats and the arena had nurses administering vaccines to residents who came from all over Ontario. Once we received the tour, we were placed at multiple intersections surrounding the arena. I was able to guide and supporting the line up leading to the clinic with my fellow ambassadors. It was a historic moment for Toronto and for me personally as well. Here was I, a newcomer to Canada being part of something that was so important to our community. 
Suddenly, my community was not Flemingdon Park or Thorncliffe Park anymore, it was the whole of Toronto and Ontario. It felt humbling to be a part of such an important work and supporting the work of Michael Garron Hospital, University Health Network, MLSE and the city of Toronto and of course TNO who had given me this opportunity to be a part of Toronto's history and nothing could have been more fulfilling. I would like to thank TNO and the team who gave me this historic opportunity.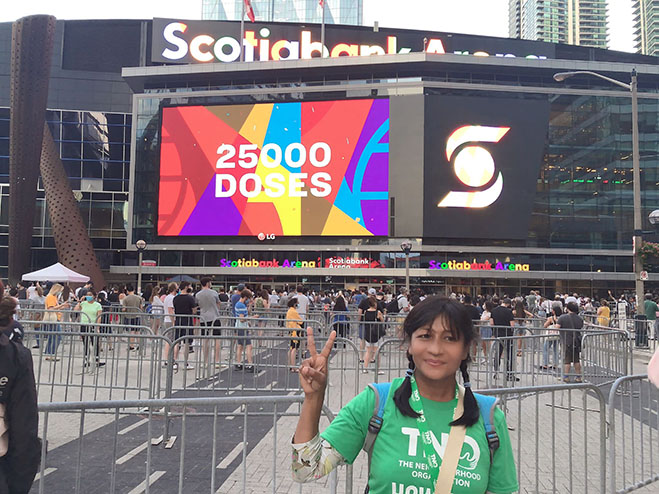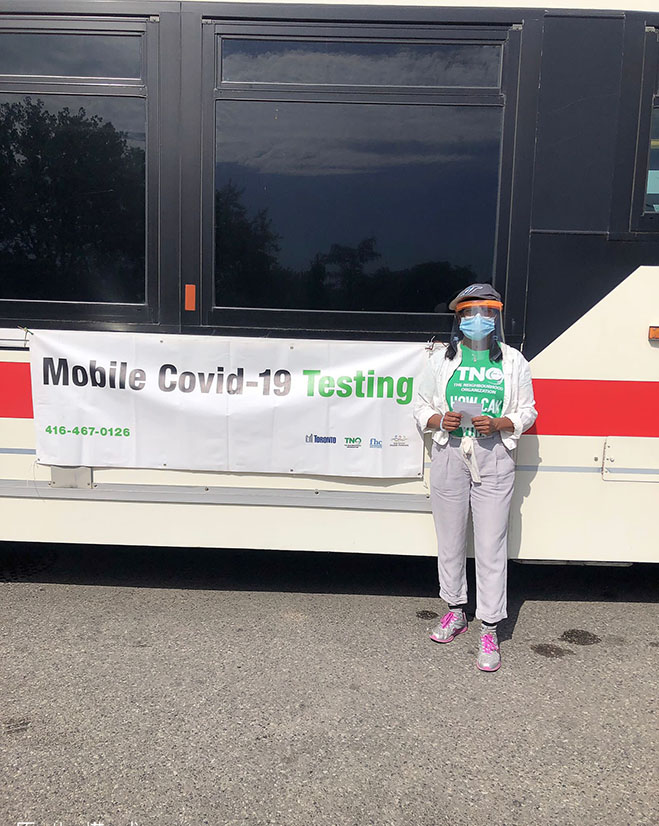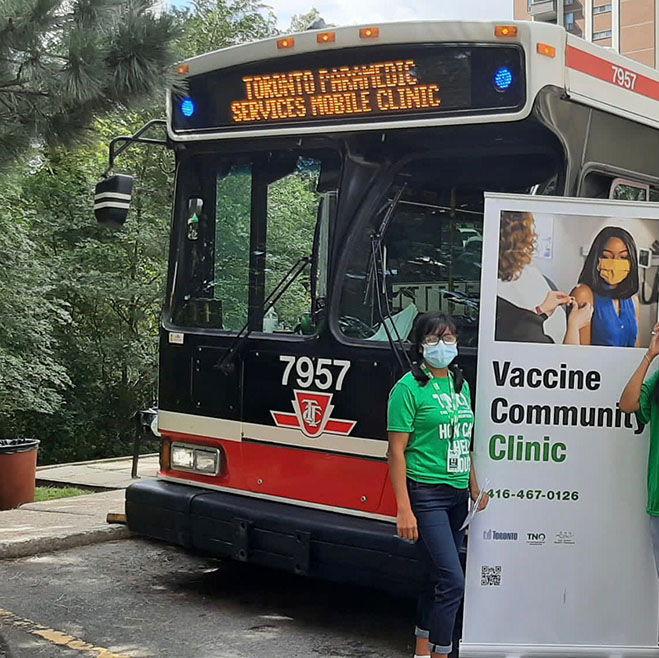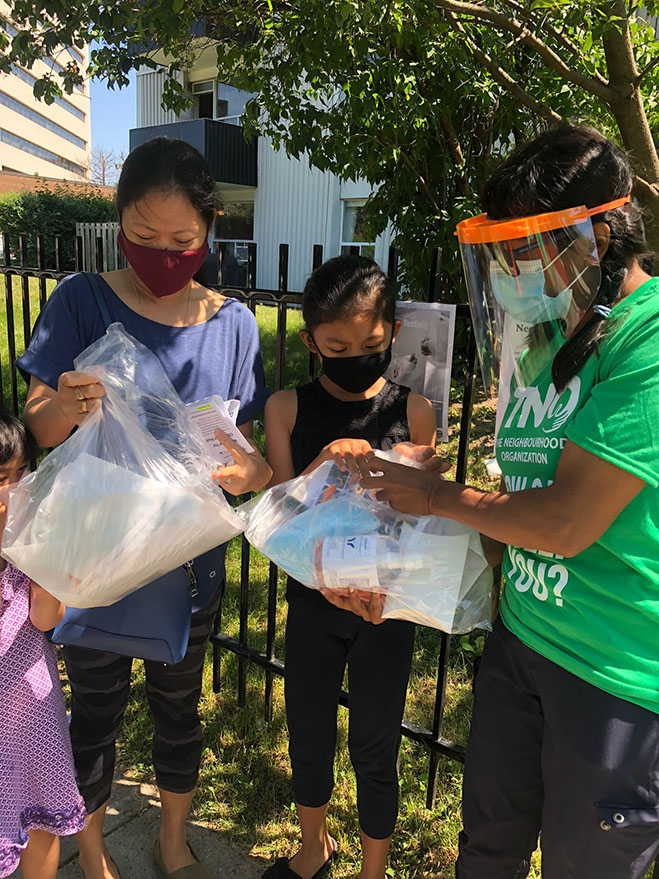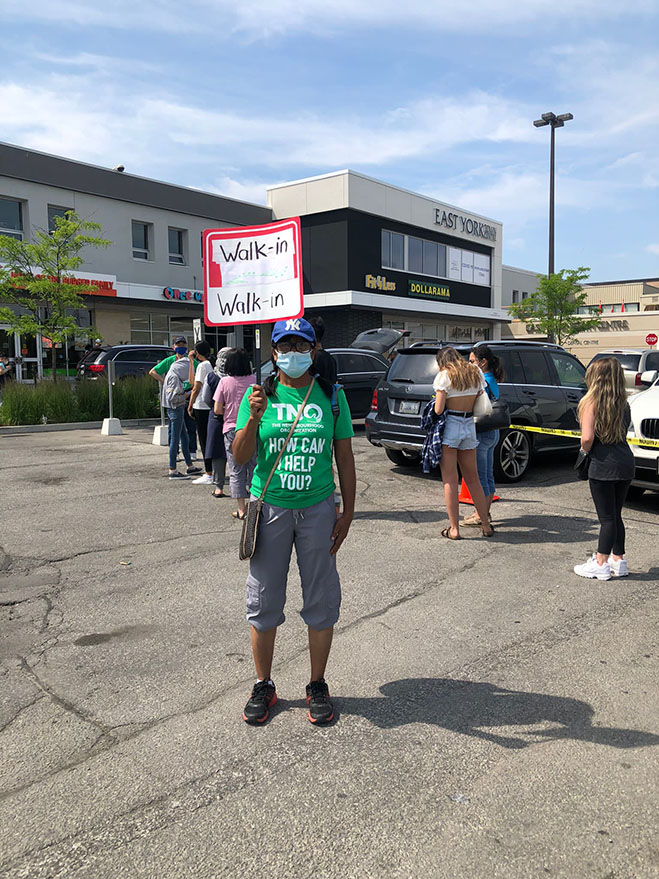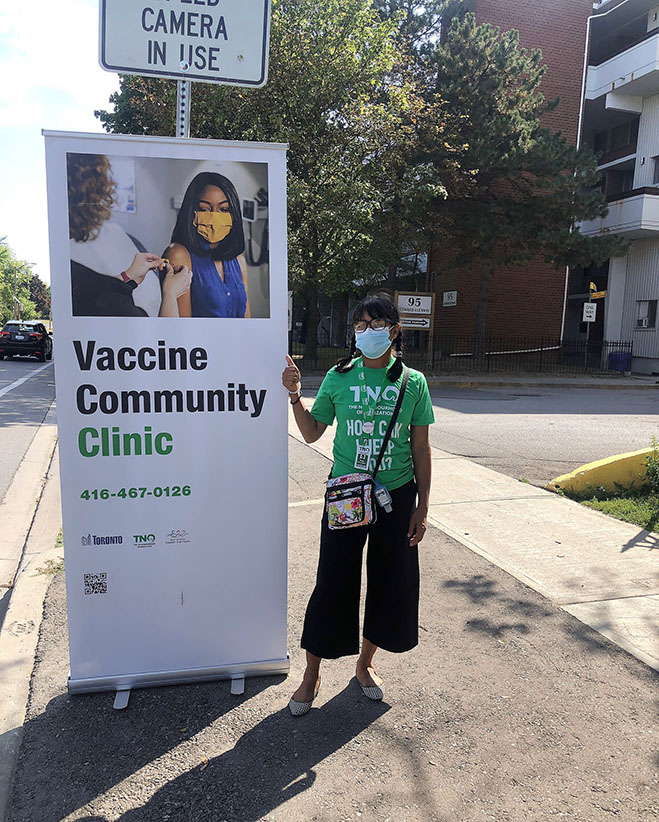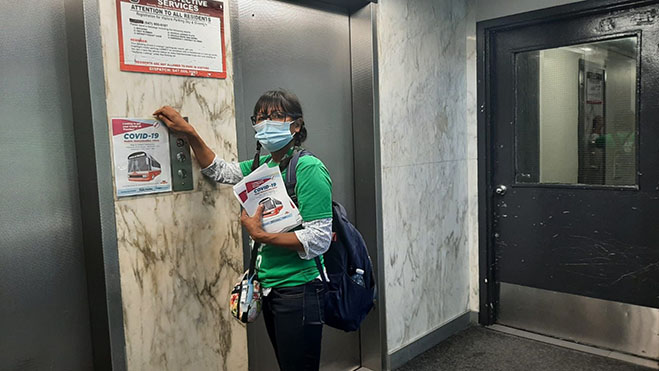 October 2021