MESSAGE FROM THE EXECUTIVE DIRECTOR
---
Hope In Activism
Spring seems hesitant to come into its own this year. Or maybe it's winter holding on stubbornly refusing to recognize that its time has passed - at least for now - but will always come around again. A promise. Similar to the promise that day will always follow night. Why am I waxing poetic? I am searching for hope, digging deep to find my optimism, to remind myself and you (I guess) that the gathering clouds, the political miasma that seems to be settling in will only be for a moment in time.
H.O.M.E.
H.O.M.E is an online portal which allows donors – both businesses and individuals – to post available housing, goods and services to help people in need. Created by WoodGreen Community Services to help ease the settlement journey for Syrian Refugees, the HOME portal has now expanded to serve all people in need of housing and other resources in Ontario.
Save The Date!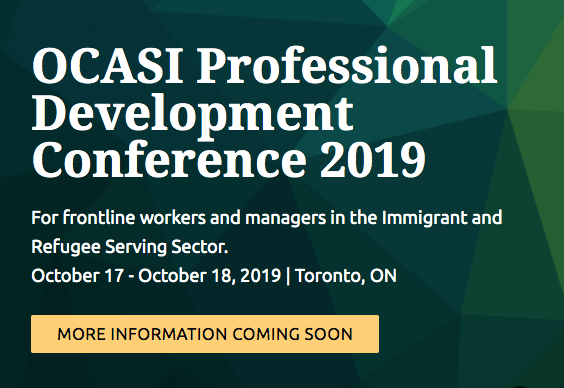 OCASI will be holding a professional development conference in October 2019 for frontline workers and managers in the immigrant and refugee serving sector. Watch for updates in this newsletter and on our website.
---
OCASI

 Helps You Pay For PD

The OCASI Professional Education and Training (PET) initiative provides frontline workers in organizations funded by Immigration, Refugees and Citizenship Canada with financial assistance for professional development. Frontline workers can use the funds to take individual courses to enhance their skills. Organizations can also apply for funds through PET for group training for all staff.

Who can apply? Find out more at pet.settlement.org »

- - -

Ce projet d'éducation et de formation professionnelle d'OCASI (PET) met une assistance financière à la disposition des travailleurs des organisations fondées par Immigration, Réfugiés et Citoyenneté Canada (IRCC) afin de renforcer leurs compétences et partager leurs connaissances au moyen de/ grâce cours individuels. PET supporte également le renforcement de capacité des organisations en identifiant et payant des facilitateurs pour délivrer à leurs équipes des thèmes sur mesure.

Qui peut appliquer ? En savoir plus à l'adresse suivante pet.settlement.org »
---
Self-Directed Online Training
Supporting LGBTQIA+ Newcomers through building Positive Spaces is a FREE self-directed online training by OCASI. The training will help frontline practitioners working with immigrant and refugee communities who identify as LGBTQIA+(lesbian, gay, bisexual, transgender, queer, intersex, and asexual) to better understand the various barriers and challenges they face when accessing settlement services.
Who can apply? Register here for the Training »
---
Power at your Fingertips
Need to streamline client information for your agency? Generate reports quickly and easily? Meet last-minute funder changes in reporting? Discover how by watching the OCMS video or sign up for a webinar. The OCASI Client Management System was developed by the sector for the sector, and is supported only through user fees. Contact Elena Trapeznikova elena@ocasi.orgor (416) 322-4950 ext. 241
Anti-Racism Focus Groups
Are you Indigenous, black, white or a member of a racialized group who is aged 16 or over? ParriagGroup wants to hear from you. They are holding focus groups in Thunder Bay and Toronto for the Ontario Anti-Racism Directorate to understand the perspectives of public services users on culturally safe ways to collect race and identity-based personal information.
---
2019 Flavours of Thorncliffe
Enjoy international cuisine, entertainment & stories that celebrate the cultural diversity of the TNO community. Featuring local chefs, food from around the world and 'Flavours of Thorncliffe Cookbook'. Join TNO - The Neighbourhood Organization as they raise funds to send local youth to summer camp and support ice hockey for kids. Thursday, June 13, 2019 from 6:30 - 9:30 pm at All Canadian Self-Storage, 1 Laird Drive, Toronto.
---
No Life for a Child
No Life for a Child: A Roadmap to End Immigration Detention of Children and Family Separation is a free lecture featuring prominent immigration and refugee lawyers Hanna Gros and Andrew Brouwer, and panel discussion by young people with lived experience with the immigration system. Tuesday June 4th, 2019 7:00 p.m, Art Gallery of Ontario.
Register »
---
Toronto Newcomer Day 2019
The 5th Annual Toronto Newcomer Day will be held at Nathan Phillips Square at Toronto City Hall on Thursday May 16, 2019 from 11:30 a.m. – 3:30 p.m. Join us for a day filled with entertainment, engaging activities, information sharing, and delicious food, as we celebrate and welcome newcomers to Toronto.
---
Roots: Reconciling the Global with the Local
Register for the Canadian Council for Refugees (CCR) Spring Consultation to be held on May 30 - June 1st, 2019 in Victoria, BC. The consultation will explore current issues affecting refugee protection and newcomer settlement at our Spring Consultation, with a special focus on dialogue about newcomer settlement on Indigenous land, and building bridges with Indigenous People.
---
International Metropolis Conference: The Promise of Migration
The conference will explore opportunities and challenges regarding the fulfillment of the "promise of migration" for the wellbeing of all involved, including migrants, host societies and sending communities. It will be held at the Shaw Centre in Ottawa, June 24 to 28, 2019.
---
This new report from United Way Greater Toronto looks at income trends between 1980 - 2015 and income gap between young people, immigrants, racialized groups and the rest of the population in Peel, Toronto and York regions. Learn who has access to opportunities to succeed, and who is left behind because of circumstances they can't control.