Accessibility Initiative
Accessibility Planning in the Settlement Sector: Newcomers with Disabilities
Project Summary
OCASI's Accessibility Initiative (AI) allows settlement sector employees to acquire new skills and knowledge in areas related to service provision to immigrants with disabilities. Through this initiative, settlement sector employees learn more about immigrants with disabilities and their diversities; gain a greater understanding of the different legislations that exist internationally, nationally, provincially/territorially as it relates to the rights of people with disabilities; examine the relationship between disability, race, immigrant/refugee status and other layers of marginalization. Moreover, sector employees become better aware of the requirement of the Accessibility for Ontarians with Disabilities Act (the Act) and what their organizations need to do to become accessible in the long term.
 Download our Accessibility Kit
Module 1: Understanding Disability
This module allows us to interrogate the medical and social models of disability. We work towards gaining a greater understanding of how people with disabilities have been segregated, devalued, marginalized, and "minoritized" in many parts of the world with a focus on Canada.
Module 2: Inclusion, Accessibility and the Law
This module examines the relationship between accessibility and the law with a focus on understanding international, national, provincial/territorial legislations as they relate to people with disabilities.
Module 3: Immigrants and Racialized People with Disabilities
This module focuses on examining the relationship between disability, race, immigrant/refugee status and other layers of marginalization such as, socio-economic background, identity, age, etc.
Module 4: Direct Intervention
This module works through how to support newcomers with disabilities. Specifically, sector employees learn how to work with families who have children or young adults with disabilities and ways to support newcomers with disabilities in their own self-advocacy. Managers learn what they can realistically do to make their organizations more accessible (e.g. looking at their policies, diversifying their partnerships, including accessibility in their budgets to create a more accessible and inclusive environment).
Description
Moving to a new country presents many challenges and opportunities for newcomers. The settlement process can be especially challenging for newcomers with disabilities, who are further marginalized due to disability-related barriers in our communities and workplaces.
Learning who newcomers with disabilities are, how to welcome and accommodate them is something the settlement sector is becoming more aware of. While our broader understanding of disability has led to the enhancement of legislations and programs; when it comes to the unique obstacles facing newcomers with disabilities, service delivery has not been able to effectively address their needs.
OCASI is committed to supporting the settlement sector create welcoming, positive and inclusive spaces for all.
These webinars for Executive Directors including senior managers will provide you with an opportunity to learn:
Webinar 1:
How barriers intersect and interlock impacting the experiences of newcomers with disabilities in Canada
More about the Accessibility for Ontarians with Disability Act as it relates to supporting newcomers with disabilities
To view the power point: download
Webinar 2:
How to complete an accessibility audit of your workplace including what accessibility features an office or meeting should include
How to develop an action plan for priority accessibility issues including organizational budget
Where to apply for accessibility funds/grants and how to include it in the current CFP Less
To view the power point: download
To listen to the webinar follow the link below:
attendee.gotowebinar.com/recording/5551123414538763777
To request information on this page in an alternative format please email me at cniles@ocasi.ca
Program Resources
Handouts for Managers [PDF]
Handouts for Sector Employees [PDF]
OCASI Accessibility Initiative at the
Canadian Race Relations Foundation
Award Banquet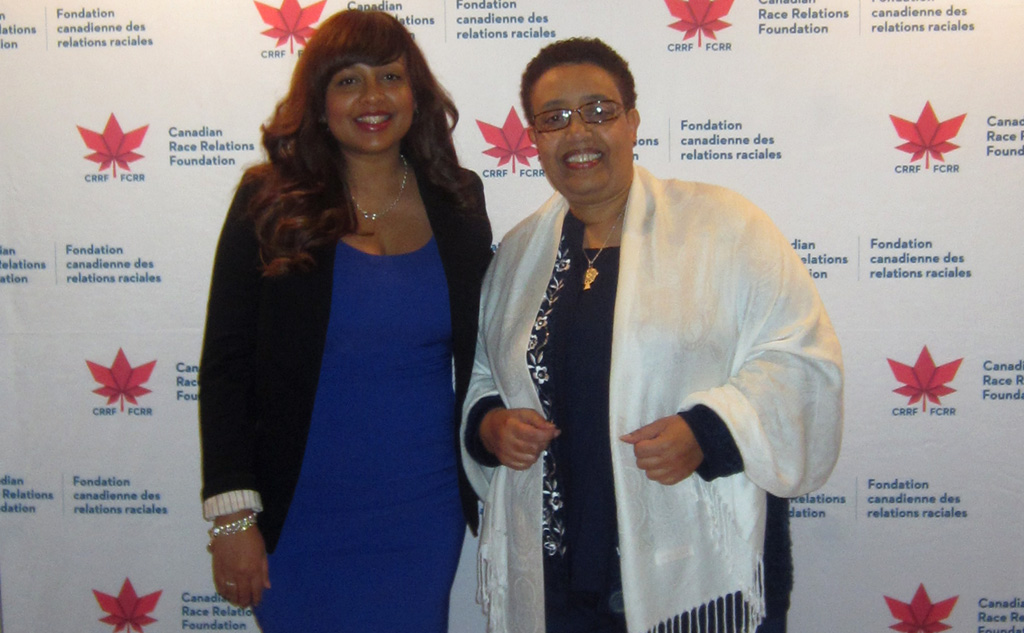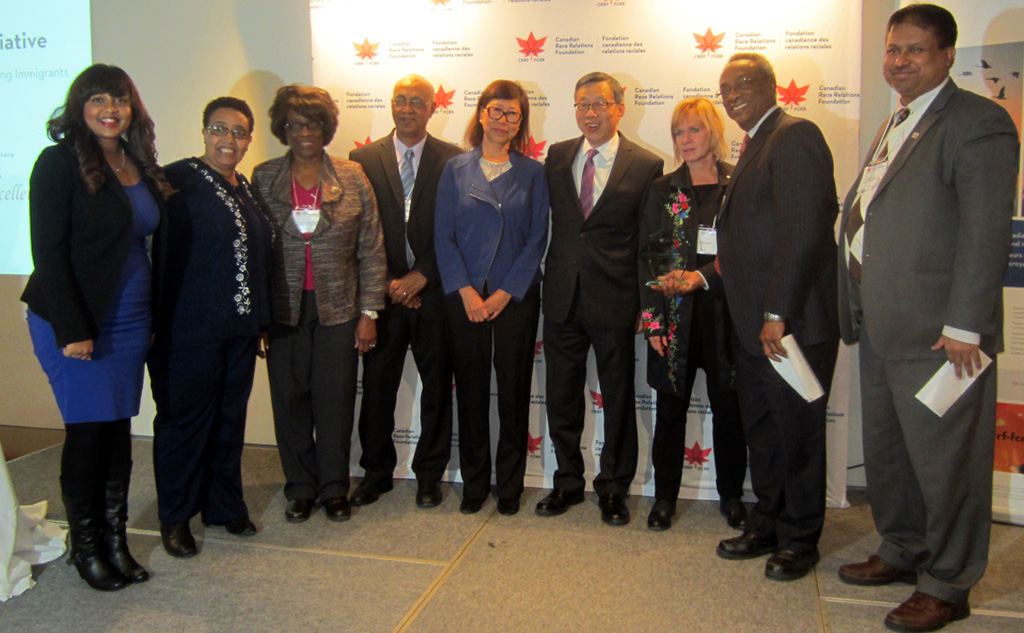 Click on the images to enlarge the photos.
Allies in Accessibility Bios, 2018/19 champions
Hermia Corbette (she,her)
Hermia Corbette's background includes work in the government and non-profit sector. She has worked for several years researching, developing and launching programs in the areas of youth employment, community development, newcomer services, conflict mediation, partnership building and community engagement. As the manager of the Welcome Centre Immigrant Services in Ajax, she collaborates with an extensive network of partners that provide services in language instruction, employment guidance, settlement services, social integration and other government and community supports to people who have recently made Canada their home.
Silvana Valentone (she, her)
Silvana Valentone has been working in the settlement sector for the past 11 years, first in Toronto and now in Ottawa. She is passionate about teaching and learning languages, and Sign Languages in particular. Silvana is always happy to share practical tips from Positive Psychology, and to learn about other cultures.
Anum Syeda (she,her)
Anum Syeda is a first-generation immigrant, born to Pakistani parents and raised in the U.A.E. She completed her bachelor's degree in Psychology at the University of Waterloo, and her work experience has encompassed both the developmental services sector and settlement. Through her experiences, she saw the gaps that persisted and the potential that existed to bridge the two service sectors. She's passionate about inclusion in urbanism and community-building through art. She speaks Urdu and Hindi fluently, and in her spare time likes to write, read, and organize get-togethers.
Marcela Diaz (she,her)
Maecela Diaz is currently a senior manager with the Multicultural Council of Windsor and Essex County (MCC), where she has worked since 2000. Marcela holds a B.Ed. from the Universidad Santiago de Cali, Colombia; an MSc from the University of Waterloo, and an MBA from Wilfrid Laurier University. Passionate about refugees, Marcela is involved in various initiatives at the community, provincial and national level. Currently she is member of the GAR-RAP Working Group, a national group that discusses issues around government assisted refugees (GARs) that are supported through the Resettlement Assistance Program (RAP); and is member of the National Executive of a Pan Canadian research project on Syrian Refugee Integration and Long-Term Health Outcomes in Canada. Outside of her professional career, Marcela is a single mother of three children, two of them with exceptionalities. She is an active Rotarian, and volunteers in the community in various initiatives with a focus on youth, including newcomer youth and youth with disabilities. She has served on various boards at the community and provincial level, including the Ontario Association of Children's Rehabilitation Services (OACRS), and John McGivney Children's Centre. She is member of Autism Ontario and past member of the Learning Disability Association of Ontario. Marcela enjoys singing, and is member of the Windsor Symphony Orchestra Choir and will be performing in Carnegie Hall in May 2018. Marcela looks forward towards contributing to the community and facilitating bridges between newcomers with disabilities and their families and the service providers in the communities who can assist them.
Jalesa Wallace (she, her)
Jalesa Wallace is a full time mommy to a three year old who has my whole heart, named Dion. Jalesa is a graduate of the Social Service Worker from Sheridan College She works full time at the ECLYPSE Youth Centre where she manages both centres. She has also worked in the Mental Health field with Kerry's Place Autism Services for 6 years. Her hobbies include writing, (she published a novel when she was 19), party planning and listening to music. Jalesa because she realized now, growing up that she had that extra support or advocate throughout her life.
Dane Record (he, him)
Dane Record resides in Ajax, ON with his family. He enjoys listening to podcasts while walking the dog and chatting sports over Pepsi and Ketchup chips. His HIV involvement is currently stationed in Oshawa, ON at the AIDS Committee of Durham Region educating on Black HIV, pushing for integrative community health for Black and marginalized communities, and peer development for future leadership in local front-line healthcare.
Taghrid Abdulrahim (she, her)
Taghrid Abdulrahim has a back ground in sociology and humanities. With over eight years of experience working with special need children and their families, focusing on enhanced education (In Particular L/NES (limited and/or none-English Speaking). Currently, and for the past 2 years Taghrid is the Disabilities Settlement Counselor at the Arab Community Center of Toronto (ACCT) where she provides one-on-one and direct services to families with one or more children with in/visible disabilities. Taghrid is currently working on her diploma in ECE for Special Need Children.
Trishauna Linton (she,her)
Trishauna Linton holds a bachelor's degree in Social Work and Women Studies from the University of Windsor. She is currently working as a Program Coordinator at The Windsor Women Working with Immigrant Women. She is passionate about her work in expanding the capacity of women centered opportunities specifically with newcomer and immigrant women. Trishauna focuses her work around economic independence and prevention of violence against women because women have the right to make genuine choices about their lives , participate equally and fully in all spheres of their lives, have women's work, paid and unpaid recognized both socially and economically, have policies and systems that celebrate women's contributions and reflect the reality and intersectionality of women's lives. Trishauna believes that this work cannot start, continue or end without accessibility."
Staff Bios
Sihem Ait Hammouda (she, her)
Sihem Ait Hammouda is the Bilingual Coordinator, Accessibility Initiative at OCASI. She is a trained facilitator, an inclusive educator and professional with over 15 years in facilitating training and developing curriculum. Sihem holds a Master's degree in Law from the University of Tunis and Project Management Diploma from Collège Boréal. As an experienced community researcher who works primarily on equity and diversity issues using an anti-racist anti-oppressive framework, she strives to empower newcomers with disabilities as well as strengthen the capacity of the settlement sector to better serve this vulnerable population. Her work has focused on access issues and the creation of inclusive communities for people with disabilities.
Chavon Niles (she, her)
Chavon Niles is a Guyanese Canadian PhD Candidate (all but dissertation) at the Ontario Institute for Studies in Education at the University of Toronto. Chavon's doctoral thesis explores the invisiblization of racialized immigrant and refugee youth with in/visible disabilities living in the Greater Toronto Area. Using narratives, Chavon hopes to better understand how youth access/navigate education, health and human services using critical race, critical disability and post-colonial theories.
Chavon is also a seasoned educator. As the Senior Coordinator at OCASI- Ontario Council of Agencies Serving she leads a provincial community education campaign that brings greater attention to the challenges and barriers immigrants and refugees with in/visible disabilities experience in Canada. She works with organizations across Ontario to ensure their policies, practices and procedures are equitable to diverse service users.
Chavon completed a Master's degree in Critical Disability Studies from York University focusing on regular and special education classroom teachers' perceptions of teaching students with IEPs, a Bachelor of Education degree from the University of Toronto with a specialization in primary/junior education, and an Honors Bachelor of Science degree from McMaster University with an interest in supporting students with in/visible disabilities in the classroom.