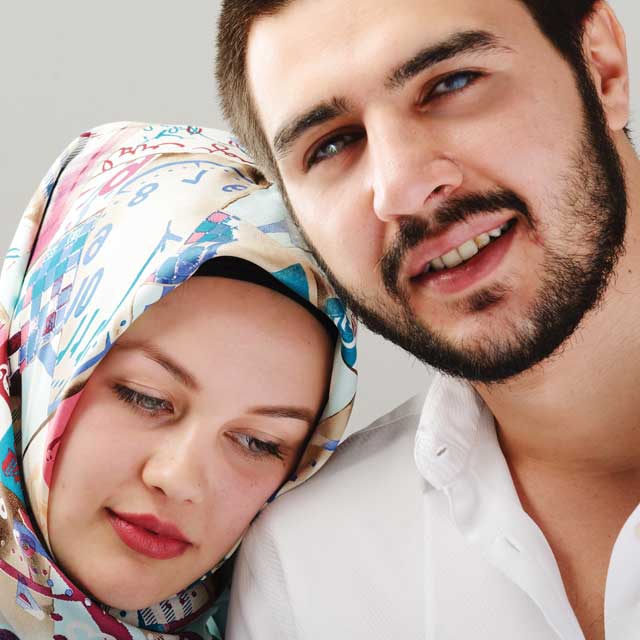 Mohamed and Fatima in Toronto, ON
Mohamed and Fatima are in their early 30s, have been married for over 10 years and are both blind. They were born in Iran; however, Mohamed was an Afghan refugee. As a refugee in Iran, he was told that people who are blind could not study and so he did not begin elementary school until the age of 14.
While he did eventually obtain his high-school diploma, the government prevented him from attending university because he was a refugee. Fatima, a native Iranian, had no issues completing high-school. However, university was cost prohibitive for her. They both were employed in a factory. Mohamed left for Syria and was accepted as a conventional refugee after 4 months. He promptly brought his wife and daughter to Syria.
A local church organization in Canada sponsored Mohamed and Fatima two years ago. Mohamed stated that, "We wanted to come to a first world country." They came to Canada believing that there were endless possibilities for people with disabilities to fully participate in the social, political, and economic aspects of life. However, Mohamed's first shock came when he was wrongly informed by his peers that vision loss was not a "disability in Canada."
Newcomers require timely, useful and accurate information to make informed settlement decisions and understand how to maneuver the nuances of life in Canada. This includes information about laws, their rights and responsibilities, and how to access community resources. In Mohamed and Fatima's case, they were left alone to find services. Mohamed describes their difficult experiences, noting that "we [had] to take the bus, we [had] to take the subway with a six-year-old daughter and two blind people."
The services they received from a community settlement agency were with regards to filling forms work and none of the documents were available in alternative formats such as Braille. Moreover, they continued to be referred back to the church that sponsored them for support. While the church was helpful they were not equipped to provide the level of support this family required.
Fatima and Mohamed now both attend an English as a Second Language (ESL) program to advance their communication skills in English. However, they have not been able to get their learning materials in alternate formats to support their learning. By the time the alternative packages are prepared, the class has moved forward and the Braille translated materials are irrelevant. They often find themselves just sitting and listening in class.
A Canadian National Institute for the Blind (CNIB) assessment prescribed several assistive devices using Braille technology for the couple. Because they have been sponsored by a church, Mohamed and Fatima are ineligible for the Ontario Disability Support Program (ODSP). Without financial support from ODSP, these devices are cost prohibitive. In addition, they recently found out from acquaintances about programs they missed out on due to specific time-frame eligibility, such as housing, child care, and extracurricular activities for their daughter.
From the onset of their settlement experience, Mohamed and Fatima have encountered serious information and communication barriers creating undue hardship. It's not clear why they were not informed about programs they were eligible for, or about any resources available in Braille or their native language; perhaps it was due to an uninformed volunteer or settlement sector employee. For their ESL classes and other settlement services, it is a requirement under the Accessibility for Ontarians with Disabilities Act that alternative formats are provided upon request within a reasonable timeframe which did not appear to happen in case.