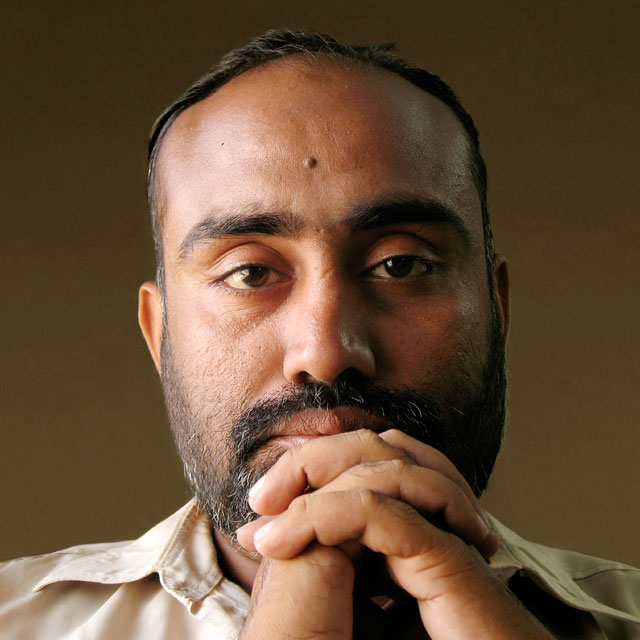 Mary and Tariq in London, ON
Tariq is an adult in his early 30s living with Down syndrome. Tariq does not speak very much English and so Mary his sister shares his story. Mary told the interviewer that Tariq can take showers, dress himself and sometimes help with household chores such as vacuuming and clearing the dishes after meals, however, she concluded that "He cannot live by himself."
Tariq, his parents, sister Mary, and nephew were refugees originally from Iraq. They lived in refugee camps in Lebanon for 15 years and in Jordan for 4 years before the Canadian government offered them resettlement. They were resettled in London, Ontario because they had a cousin who settled there. Tariq completed Grade 3 and a year of vocational school in Iraq. As refugees in Lebanon, school was expensive so he did not continue on with his education.
After arriving in Canada 4 years ago, the family immediately accessed services through a settlement agency in London, ON. Through the Resettlement Assistance Program (RAP), they were provided with temporary housing and immediate life-skills training for 3 weeks at a reception centre as government assisted refugees. We were told that, "The Resettlement Assistance Program helps refugees and protected persons resettle in Canada by providing them with financial assistance to cover the costs of accommodations, essential clothing, household effects and other living expense." During this time their needs were assessed and Tariq was appropriately referred to an agency that provided him with Language Instruction for Newcomers to Canada (LINC) program for newcomers with disabilities. He attended these classes for a year and a half and also received tutoring support at home. Since Tariq is over 18 years of age, he cannot attend public school and it has been difficult to find a full-time day program. However, long waiting lists are common across Ontario for adults with developmental disabilities such as Tariq. His family is feeling the crunch of the waiting list more than others as he has been on the list for almost two years. Currently Mary worries, "...now he does nothing, he just sitting home....my mom is sitting with him at home, she can't do anything like she can't learn English or attending any program".
Tariq was offered a job skills workshop that looked promising. His mother wanted to accompany him for the first few visits to aid in the transition; however, the agency would not accommodate the request. Unfortunately, after attending alone, the agency requested he be picked up after a half-hour because he was perceived as being uncooperative.
According to the Customer Service standard in the Accessibility for Ontarians with Disabilities Act, a person with a disability has the right to bring a support person when accessing goods or services. In this case, Tariq's mother should have been allowed to assist her son in transitioning. Tariq may have been sent home for seeming to be uncooperative, when language and cultural barriers may have also been at the root of the problem. It can be difficult to communicate the extent of adversity faced by newcomers with disabilities without understanding the disability, life experiences, how disability is viewed in the family, and cultural background.
Hoping to give her mother some free time, Mary investigated weekend respite services. Mary's mother was uncomfortable accessing these services because of traditional values. "...we are from Arabic country... she can't leave her son. She refused." The perception of disability in other parts of the world is not the same as it is constructed in the Global North. It is important for us to also understand that for many families from the Global South, the family or the community may work to support the person with the disability while they may not have access to the same services from the government. In contrast, Canada may provide an array of services and programs for people with disabilities that immigrant families may not be aware of.
Moreover, many people who have an intellectual disability are eligible for funding from the Ontario Government such as: Ontario Disability Support Program (ODSP), Special Services at Home, Passport Funding, etc. However Tariq and his mother may struggle with finding care because of an information and communication barrier. In addition, cultural differences and understanding of these support programs may make some families hesitant. A coordinated response from settlement and disability services to shared needs and concerns could help to mitigate these compounding factors.
Images: